Remember a couple posts ago when I explained how I delighted Sean by telling him I would like to switch a couple of rooms around? Well this was part of the switch-a-roo.
This room used to be the dining room. Now, picture this giant room with our small table smack dab in the center and nothing else. Yup. Big trouble. Because of the size of this room and the relative amount of dining room vs office/guest bedroom furniture, I decided that function won over traditional space purposing. Before my dear husband knew what hit him, he was knee deep in moving furniture from room to room.
A couple things before we begin:
1. Sean and I agreed on a budget of $300 to complete the room (not including a gift card to Bed, Bath, and Beyond or any cash I accumulated by selling old stuff on craigslist. On a side note, I have not yet tackled selling anything on craigslist. Once I do that, I will probably have a couple more $$ to play around with).
2. The items we had before beginning:
A metal/glass desk that I DETEST
A futon with a very southwest/Aztec looking cover
A couple of black wall shelves without a home
A bunch of leftover picture frames
A big, huge, ugly black desk chair (will be sold)
An ugly oak filing cabinet (will be sold)
A tall, dark wood bookcase (will be used in another room)
3. Before pictures (after everything had been moved out):
Now, the progress!!
Looking in from the dining space
The futon got transformed into a full size bed to better fit the amount of space in the room. The duvet cover and matching stripped shams came from Walmart for a ridiculously cheap price and the yellow sheets from Target. The yellow flower pillow on the right came from Bed Bath and Beyond. The REST of the pillows were fantastic Good Will finds.
The faux headboard was a do-it-myself project. I purchased Styrofoam tiles (intended for the ceiling) for around $20, painted them yellow, and attached them to the wall with sticky adhesive squares.
The little bedside table was a crazy $5 sale at Ikea. The white wire lantern was a sale purchase from TJ Maxx/ Home Goods. It was originally in the living room, but found a new home here.
This desk has been my nemesis for eons. Originally it was a much larger L shape w/ a corner piece and second piece the same size as the one in the picture. Considering my tiny budget, I knew that I would have to get creative with the desk. My biggest complaint was the glass top or as I like to call it, "fingerprint magnet". No matter how often you clean it, the glass is still FULL of fingerprints within minutes. As a solution, I sprayed the underside of the glass piece with interior frosting spray paint. Once dry, I put it back on the desk and am hoping and praying that it at least camouflages the finger prints.
The adorable yellow chair was $16 from Ikea.
The yellow curtain from Bed Bath and Beyond. I definitely would not have been able to purchase these had it not been for my gift card!
This office space is where my husband will spend time working on his thesis (yes, he is getting his PhD and is crazy smart)! Once the computer and keyboard are on top of the desk, actual work space is limited. So, I bought three plain wood clip boards for $2 a piece. I photocopied pages from an old electrical engineering textbook my husband had found at a flea market and used mod podge to attach them to the clipboards. Sean can use them to hang papers/references he is using while he types. When not in use, they just look plain funky and cool I think!
I see my clock needs a new battery! The art was another do-it-myself project. The tiny lantern got moved here from another room in the house and the candles/candle holders came from Target.
The bookshelf was the biggest purchase for the room ($99 from Ikea). We needed plenty of storage for all of my husbands books/textbooks and a couple of office supplies. We needed to find a new solution for our files as the ugly filing cabinet was only making it into the room over my dead body. The two gray boxes (corners of top shelf) are for file folders and were purchased at Target ($12 each). Truth be told, this whole bookcase will be drastically changing as I haven't really moved any office supplies, etc in yet. I kind of just put stuff on for styling purposes until I am ready to actually organize!
And....there we are! I am happy to report that I am currently $12 under budget. I will add that $12 to the $$ I get from selling a couple of things on craigslist and put it toward a few more things for the room.
Here is what I would still like to accomplish....
1. A rug. I would actually love something plush and fluffy. Sheepskin would be perfect. Now, to find that on my budget....
2. The bottom of the curtains need to be hemmed. That will have to wait until I get a sewing machine though. I have a request in for my birthday :)
3. The computer and accessories needs to be transferred to this room yet.
4. Valances for the two smaller windows on either side of the bookcase.
5. Some funky art or vignette for the top of the bookcase.
Any other ideas?!?! Help a sister out!
Linking up with:
Under the Table and Dreaming's Sunday Showcase Party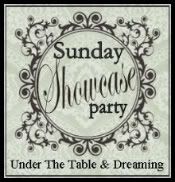 The Lettered Cottage